How British media reported London terror attacks
London Terror attack: A look at how British media reported on "carnage" at London Bridge
RELATED NEWS
At least six people were killed and 48 others injured in a terror attack on late Saturday night in London, after a white van mowed down pedestrians on London Bridge and three attackers stabbed multiple people at Borough Market.
The suspects, after ploughing through the pedestrians, stepped out of the vehicle at the nearby Borough market and began stabbing revelers with knife. A transport officer was also stabbed and was seriously injured, police said. Police officials later gunned down the three suspects. The officials also classified the events as acts of terror.
The incident sparked nationwide panic in the UK, with the attack coming just four days before the General Elections. British PM Theresa May said that she will chair a COBRA meeting to discuss the attack.
Here is a look at how various British newspapers reported the incident: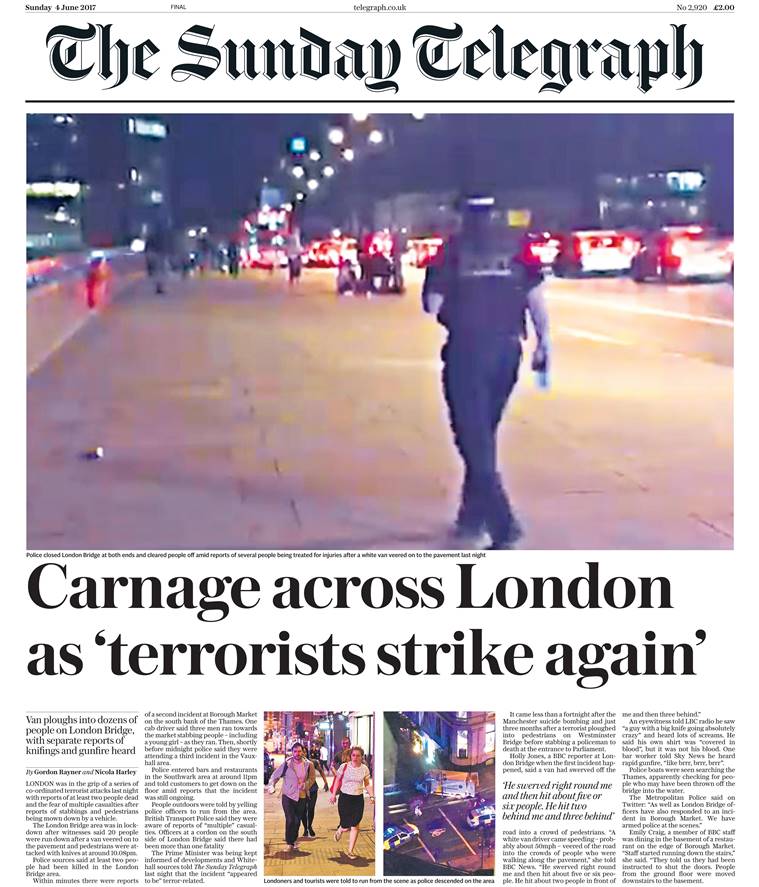 The Sunday Telegraph described the incident as "carnage" in a double-deck headline on its front page. The report described the attacks as "coordinated" and also mentioned that the incident came just two weeks after suicide bombing in Manchester Arena. The headline also pointed towards the earlier attack with "terrorists strike again" written in single quotes.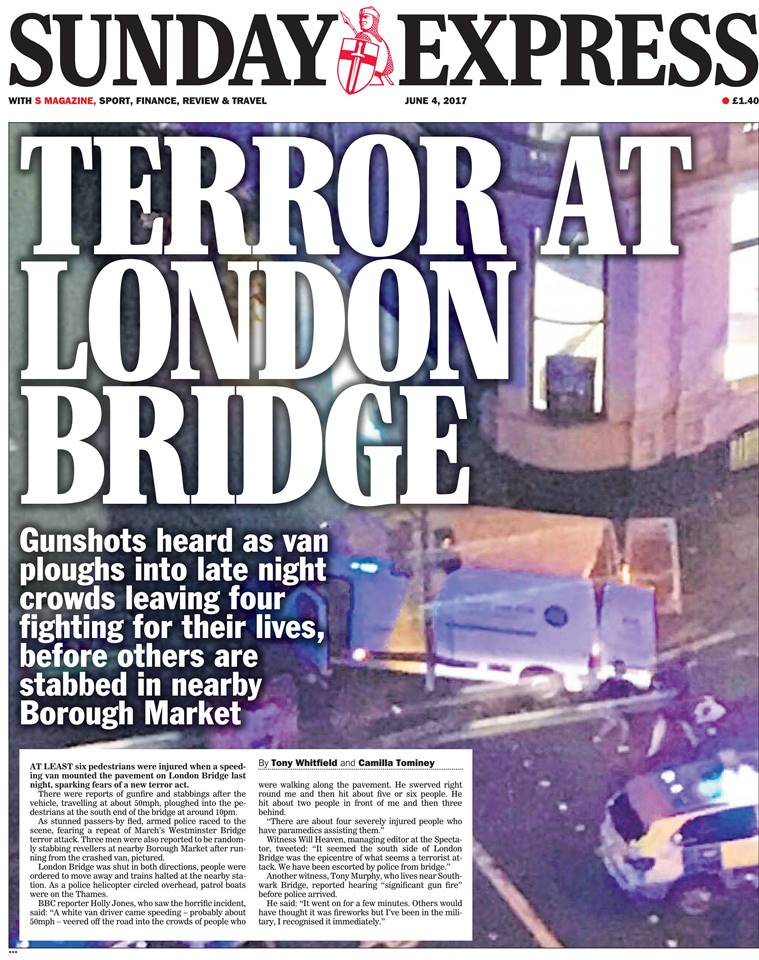 The Sunday Express also featured the image of London Bridge and with the headline, "Terror at London Bridge", written in bold. It claimed that the white van was travelling at 50 mph when it hit the pedestrians at the south end of the bridge. The report also carried eyewitnesses accounts who were present on the bridge when the attack took place.
The Sunday Times report described the attack as "carnage" and also featured eyewitness accounts. The copy mentioned the two men whose image was leaked on social media, who were reportedly shot down by police and were wearing, what looked to be, "suicide vests". The police later said that the images of the man wearing bomb vests were "hoaxes". The image used on the front page shows civilians and authorities helping those who were injured.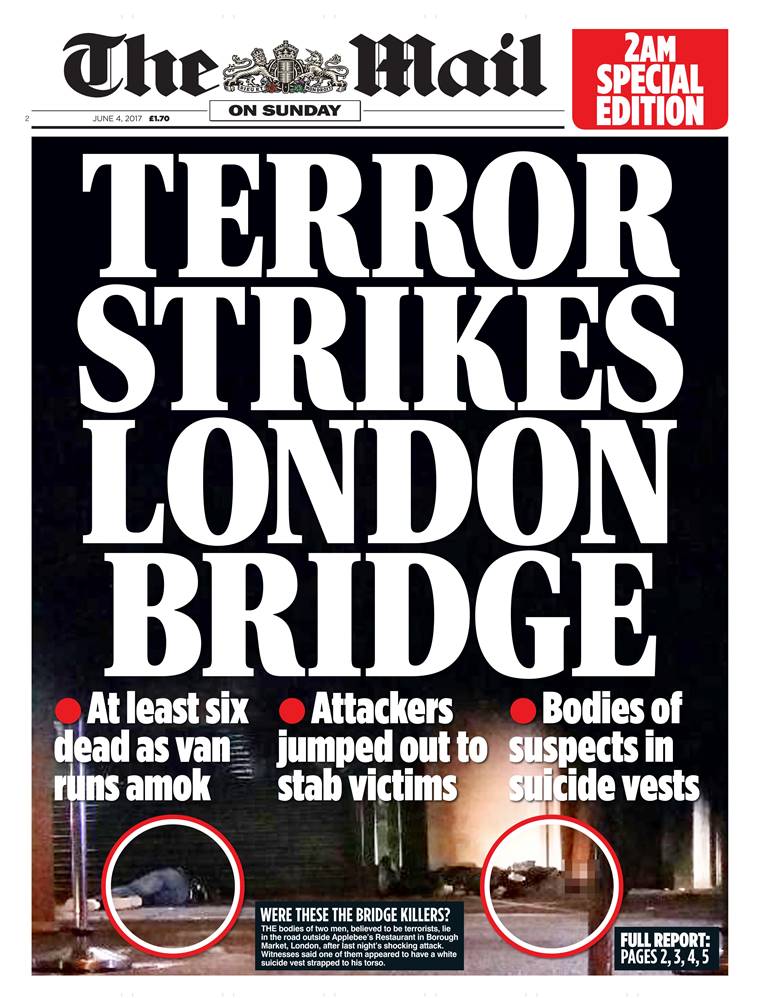 The Mail Front page featured just the image of two bodies on the pavement of Borough Market, which was leaked on social media, along with the question, "Were these the bridge killers?" A small box in the bottom corner describes Saturday's night events as "shocking" and also mentions that one of the suspected terrorist appears to be wearing a "suicide vest". The newspaper carried a detailed report on the incident in its inside pages.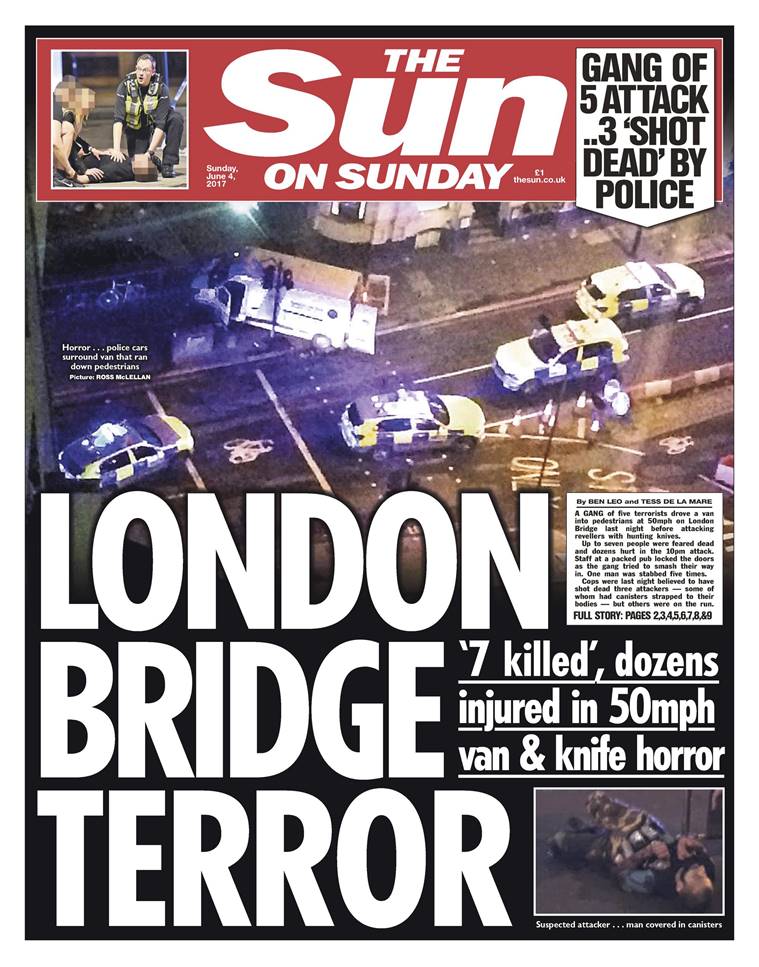 The Sun ran their copy saying that seven people were killed, much before the official death toll was revealed by authorities. The headline of the report described Saturday's events as "London Bridge Terror". In a small box on the front page, the report said that the attack was carried out by "a gang of five terrorists", when police have officially said that only three suspected terrorists were behind the attack.
Courtesy Indian express.
Can we expect our media to react like this for such an incident?